Panorama, as the name suggests, is focused on wide-reaching, perspective-changing, far-flung cinema, opening up Berlin to the world through its sheer volume of films (around 35 features) and its directly political, feminist and LGBT-friendly point-of-view. It's the home of the audience award, the Teddy prize for best queer film, and the widest selection of genre films at the Berlinale. While the Forum films can skew into impenetrable arthouse territory, Panorama is more narrative-adjacent, offering romance, coming-of-age stories, political dramas, and basically everything else in between. 
This is a place where women's stories thrive. My first look at the panorama section puts feminine struggle front-and-centre. Through grandiosity, kitchen sink realism, and a tightly-knit social horror-thriller, here are three women pushed right to the brink. 
—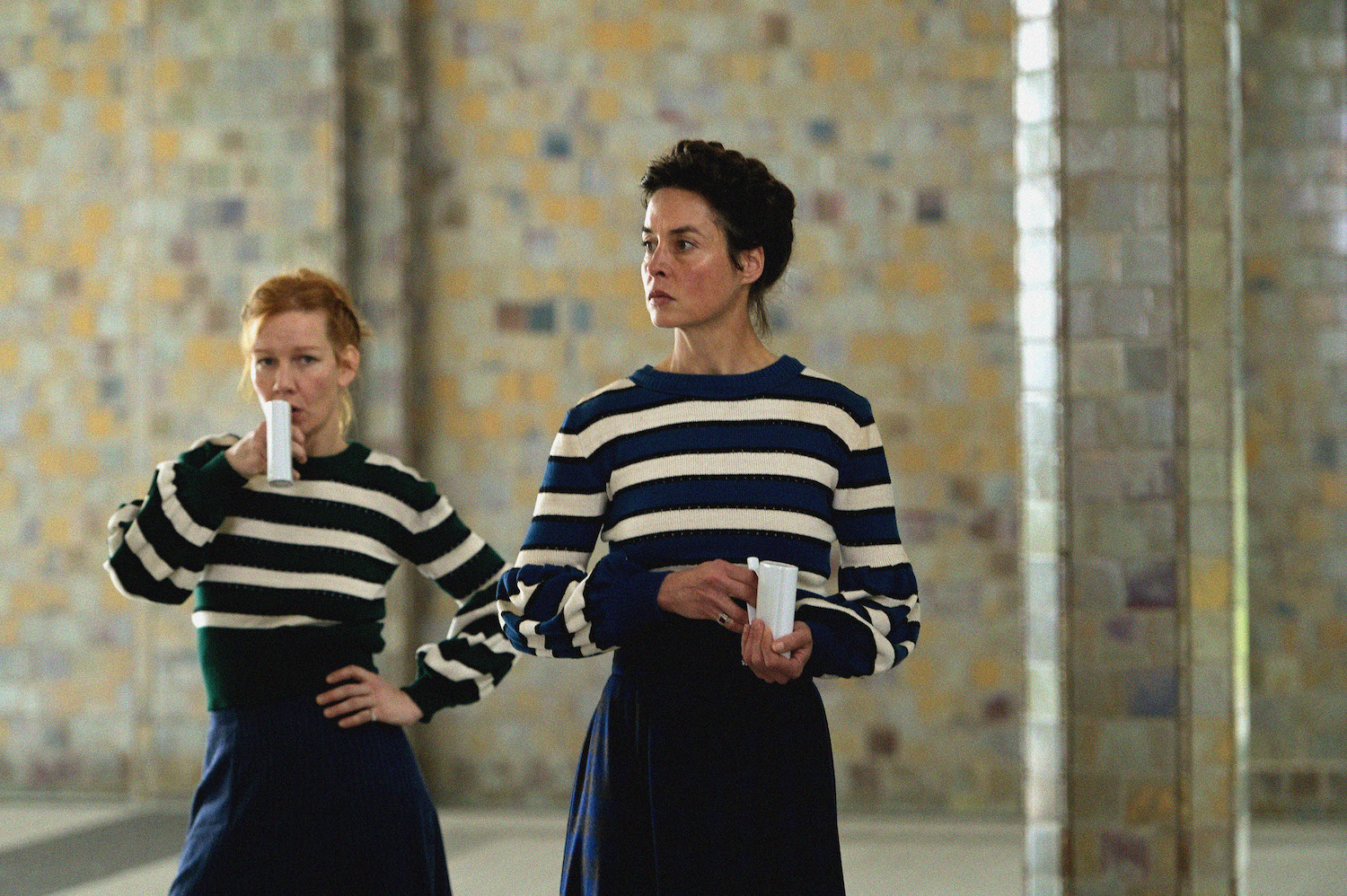 On the Brink of Death
Sisi is everywhere.
You can't move for Sisi films, adaptations, TV shows. There's the mini-series Sisi (2021-, Sven Bohse, Miguel Alexandre) every time I turn on RTL. There's Sisi on Netflix (The Empress, 2022, Katharina Eyssen, Lena Stahl). And Sisi was recently in cinemas, given the modern treatment by Austrian director Marie Kreutzer and Luxembourgish actress Vicky Krieps in Corsage (2022). 
I haven't seen any of these. My ex-girlfriend once showed me the original Sissi (1955, Ernst Marischka) with Romy Schneider in the lead — a saccharine, totally whimsical, slightly silly romp around the alps that was perfectly nice but didn't live long in the memory. And to add to the myth, I guess, I have also seen 3 Days in Quiberon (Emily Atef, 2018), a fictional portrayal of Romy Schneider slowly wasting away, unable to get out of the shadow of her most famous role. It felt like enough Sisi at the time. 
Sisi is the spitzname for Empress Elisabeth of Austria and Queen of Hungary (1854-1898). Her unbending defiance of gender norms and her tragically short life (killed by an assassin in Geneva) make her Austria's equivalent of Lady Diana. Like Diana in The Crown (Peter Morgan, 2016-) or Spencer (Pablo Larraín, 2021) or Prince Harry's endless content treadmill, she is an unending mine of feminine literature, whether you want to go modern, old-school, or somehow square the two. I am not the first or the last to be slightly overwhelmed by this phenomenon.
The difference between her and Diana is that I am not Austrian or German or Hungarian, so I feel like I am actually learning something when watching a film about the last weeks of her life. Enter Sisi & Ich (Frauke Finsterwalder, 2023, feature and above), which finds a fresh-to-me angle into the Sisi legend by telling her story from the perspective of her lady-in-waiting, Countess Irma Sztáray.
Sandra Hüller, one of the best German actresses and a true Berlinale regular, stars, immediately playing Irma as a hopeless fool. We sense her mother has pushed her (unmarried, 42, probably gay) into this job to make something useful of her previously squandered life. A variety of close-ups — nails being cleaned, corsets being attached, hair being rearranged — detail femininity as labour, prepping her for perhaps the most critical service job in the Austro-Hungarian Empire. 
Irma arrives in Corfu, in a world entirely of Sisi's (Susanne Wolff) making: where the food portions are absurdly tiny, women spend all day on pristine loungers, and the Empress's whims rule the entire villa. Hüller, leaning into corniness throughout, shows Irma to be incompetent in the small details but attentive to the emotional chaos at the heart of Sisi's life: given a larger-than-life role to play, she's there to ease her burdens, hear her woes and to indulge in her fancies. She's also, obviously, deeply in love with Sisi herself. 
Thus starts an amusing, picturesque tour of North Africa and Europe through the eyes of Sisi and her lady-in-waiting, filled with stupid men, banquets, stunning vistas, mysterious trinkets, and an awful lot of food and toilet humour. 
Finsterwalder is strongest when creating atmosphere —such as the deep, blanketed blues of twilight time, giving off the air of infinite possibilities within Sisi's domain, or the strong contrasts that give grand dinners an authentic fin-de-siecle atmosphere. But she struggles in the storytelling, especially as ahistorical music choices spanning from Le Tigre to Nico — perhaps a bold choice once — come off as clichéd and lazy.
Bending the truth to make the story more relevant (whatever that means), Sisi & Ich hides its feminist, tragic message behind comedy, showing how even the most powerful women in the world eventually have to come back into the fold of men. 
And this is perhaps the most enduring appeal of Sisi and her modern-day counterpart Princess Diana. Their lives were cut short. They never became little old ladies who started flirting with fascists. Their lives are one big what-if. For that reason, the reboots and reinventions are unlikely to go away any time soon. 
On the Brink of Poverty
Most women worldwide would still probably swap positions with Sisi immediately. Yes, there's the expectation. Yes, there's the oppressive husband. Yes, she gets "assassinated". But she was filthy rich her entire life. This is not a world that most women can even comprehend. This is especially true when you live below the poverty line, where one small change in circumstances can change your life.
For poor people, pregnancy is anything but a blessing from God. For Isra'a (Abeer Mohammed) in The Burdened (Amr Gamal, 2023, above), it might be the one thing that puts her family out on the streets of Aden, the capital of Yemen. Her husband has lost his job at the TV station, has been waiting two months for his salary, and they have to move apartment due to a sharp rent increase.
Yemen's interpretation of Islamic scripture prohibits abortion, forcing the couple to find an inventive way to get the procedure done. The result is a touching, resilient tale of women finding ownership over their bodies while keeping in touch with their Islamic faith. Through simple conversations, a quiet, non-judgemental point-of-view, and well-calibrated performances, this is a solid kitchen-sink tale that knows what it wants to do and executes it very well. 
There's an Italian neorealist feel in Gamal's observational touch, always keen to stress the reality on the ground beyond his characters. More than once, the camera bids adieu to its protagonists and lingers on the people in the background; showing families, shop workers and others going about their day to make ends meet. The widescreen camera feels compassionate and encompassing, highlighting how this is just one story in an ocean of many, the plight of the Yemeni people constantly made worse by war. 
Whether it's due to US support of Saudi Arabia, the Kingdom's excellent skill at whitewashing its atrocities, its mere geographic distance from Europe, or the complexity of the initial conflict, the Yemeni people often feel neglected in Western conversation. This is, in fact, the first feature film I have ever seen from the region. I certainly hope it won't be the last. 
On the Brink of Psychosis
While the widescreen camera opens up The Burdened's story to the broader nation, the academy ratio of The Teachers' Lounge (Ilker Çatak, 2023, above) locks you into the singularly fractured, slightly unhinged, mental state of its protagonist. Oftentimes, there's nothing to look at except for her. To imagine what she's thinking. What her next move will be. 
Probably the least political, least feminist, most pure genre film of the three, you could imagine The Teachers' Lounge playing as well at Fantasia as it probably will do here in Berlin. An almost entirely high school-set psychodrama, it is a nuanced yet wildly-entertaining depiction of how good intentions can often get in the way of actually doing the right thing.
Carla Nowak (Leonie Benesch) always has her students' well-being at the front of everything she does. A little bit of a control freak (getting her children to do a weird guten tag clapping-and-singing ritual at the start of the day) and a little bit insecure (Polish heritage, doesn't naturally banter with the other teachers), her authority over the kids is more or less based on trust rather than a strong authoritarian grip. This is a dangerous line to toe. When the kids like you, it's fine. When they don't, and they have no reason to fear you, you can quickly lose control of the entire class.
Things are complicated further by suspicions someone has been stealing. The only Turkish kid in class is falsely accused. Keen to catch the actual perpetrator, Nowak sets up a secret recording on her laptop, starting a chain of disastrous events that question her tenuous grip on keeping the moral high ground. Aided by an atonal-ish, propulsive score, whiplash editing, and a variety of excellent set pieces, this is a topsy-turvy, thriller-horror mashup that is all the more effective for showing how things could go so wrong within such an otherwise believable setting. 
All the while, slight comic elements help to enrich the piece, making the audience do those gasp-and-laugh reactions that signify a proper audience pleaser. For example, I adored how the school newspaper was used as a plot device, the Max Fischer-like parroting of journalistic clichés simply funnier when coming out of the mouth of children. Or the very on-the-nose yet effective satire of parents' WhatsApp groups. This must be a director who has experienced school or kindergarten culture close at hand and thought it was a rich vein for thriller material.
With so many kids and so much potential for a full-scale school riot, the ending opts for an enigmatic approach when the carnivalesque would've been preferred. This is a small critique however, of an otherwise tremendously enjoyable movie.