Budapest, 2123. 
Humanity has failed. All plant and animal life has perished. But the people of the Hungarian capital have managed to survive, covered by a huge dome straight out of The Simpsons Movie (David Silverman, 2007). They survive thanks to a queasy moral pay-off. Once humans turn 50 years old, they must be transported outside of the city, where they will be converted into tree-like structures which can be broken down into wood and food.
Probably to avoid losing out on state funding, there's no comment on whether Viktor Orbán is still the Prime Minister. I like to imagine him like Nixon in Futurama (1999-, Matt Groening). 
Psychiatrist Stefan (Tamás Keresztes) has a miserable job. He provides therapy for children whose parents and grandparents have been sent to the human recycling plant. He rationalises the process, stressing their commitment to the greater good. His perspective almost immediately changes when his own wife Nora (Zsófia Szamosi) opts for voluntary euthanasia, beginning an epic quest that doubles up as an excuse to explore a world torn apart by humanity's inhumanity. 
For all its arthouse pretensions, the plot of White Plastic Sky (Tibor Bánóczki and Sarolta Szabó, 2023), playing in Encounters, feels like something out of a classic Pixar movie. The characters are situated in a highly particular fantasy world, and have to embark on a quest to discover the heart of the situation. The setting brings to mind the dystopian setting of Wall-E (Andrew Stanton, 2008), while the discovery of mysterious old man living in his metaphorical high castle can't help but remind me of Up (Pete Docter, 2009). Where big-budget American or Japanese animation might have the upper hand however, is during the action sequences. Key moments of tension throughout White Plastic Sky, lack the whiplash, edge-of-your-seat suspense the genre needs.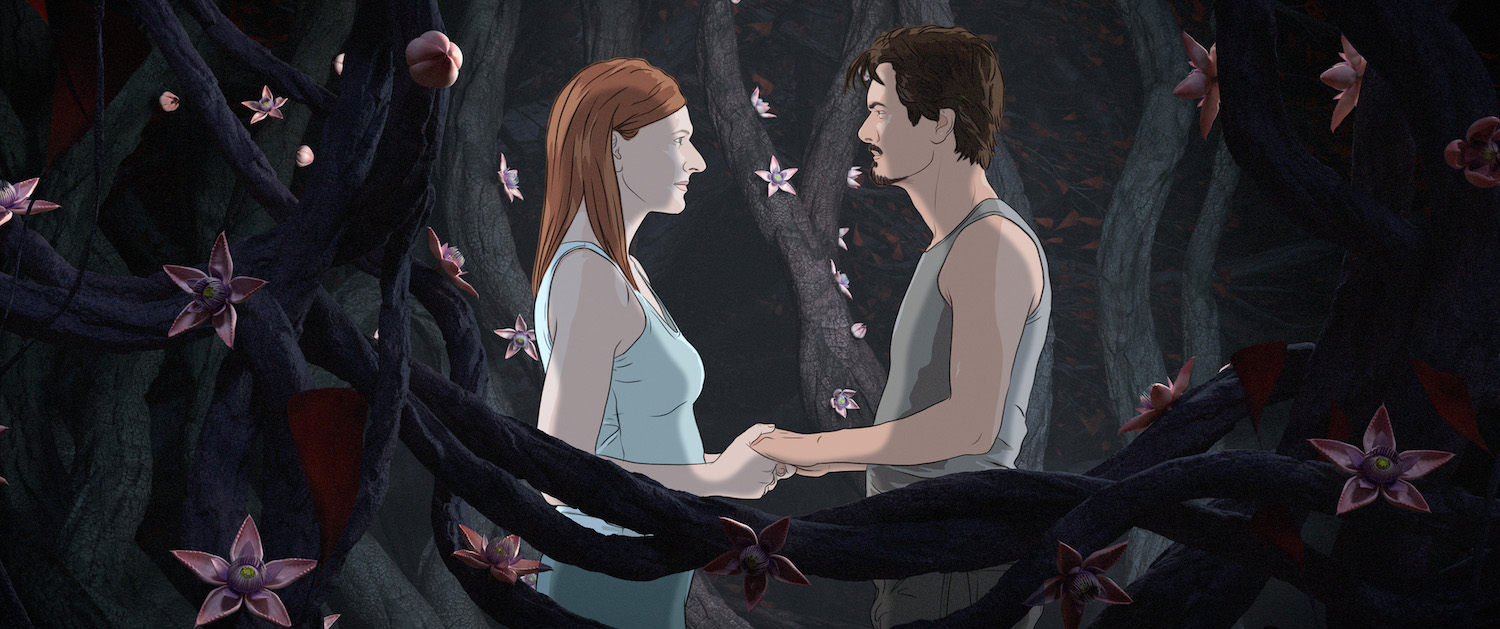 Instead, the strongest moments come through those parts that are uncommon amongst commercially-minded animation cinema; long, gorgeous takes that force you to take in the panoramas. There is a certain bleakness amongst the beauty; shimmering sunlight against a cracked landscape, the neo-noir wash of futuristic Budapest and the potential for rain to suggest spiritual rebirth.  
The rotoscoping techniques also allow for an emotional realism that you might not find in a mainstream animation; the micro-expressions of characters — often expressing duelling emotions — giving increased depth and breadth to more mundane moments. This is especially effective as the film eschews a third-act American redemption or twist arc in favour of a more stirring and chilling view of the future of humanity. 
While some compositing issues remain, especially when photorealistic animation styles are blended together with more abstract representation, these are minor quibbles regarding an otherwise startling piece of indie animation. It makes American science-fiction look tame in comparison. This Slovak-Hungarian co-production shows you don't need $100 million to look like $100 million.