While my mind felt in sync with Turkish life, my body is staging a revolution. Aches, pains, headaches and a general sense of tiredness has accompanied my last couple of days here. Maybe it's the long walks in the evenings, maybe it's the intense heat, maybe it's the grilled meats at breakfast and dinner, maybe it's the long time sitting down in shuttle buses and the cinema. Either way, my body is reminding me to drink water, stay in the shade and have an early night. 
One particularly good way of relaxing earlier was to take a long soak in the sea, which boasts some of the nicest, warmest, clearest water I've ever experienced. Locals even sang songs as they soaked up the rays. Perfectly refreshing, it prepared me for two potent queer films in the Turkish National competition that made me wonder: perhaps the A in LGBTQA stands for Antalya.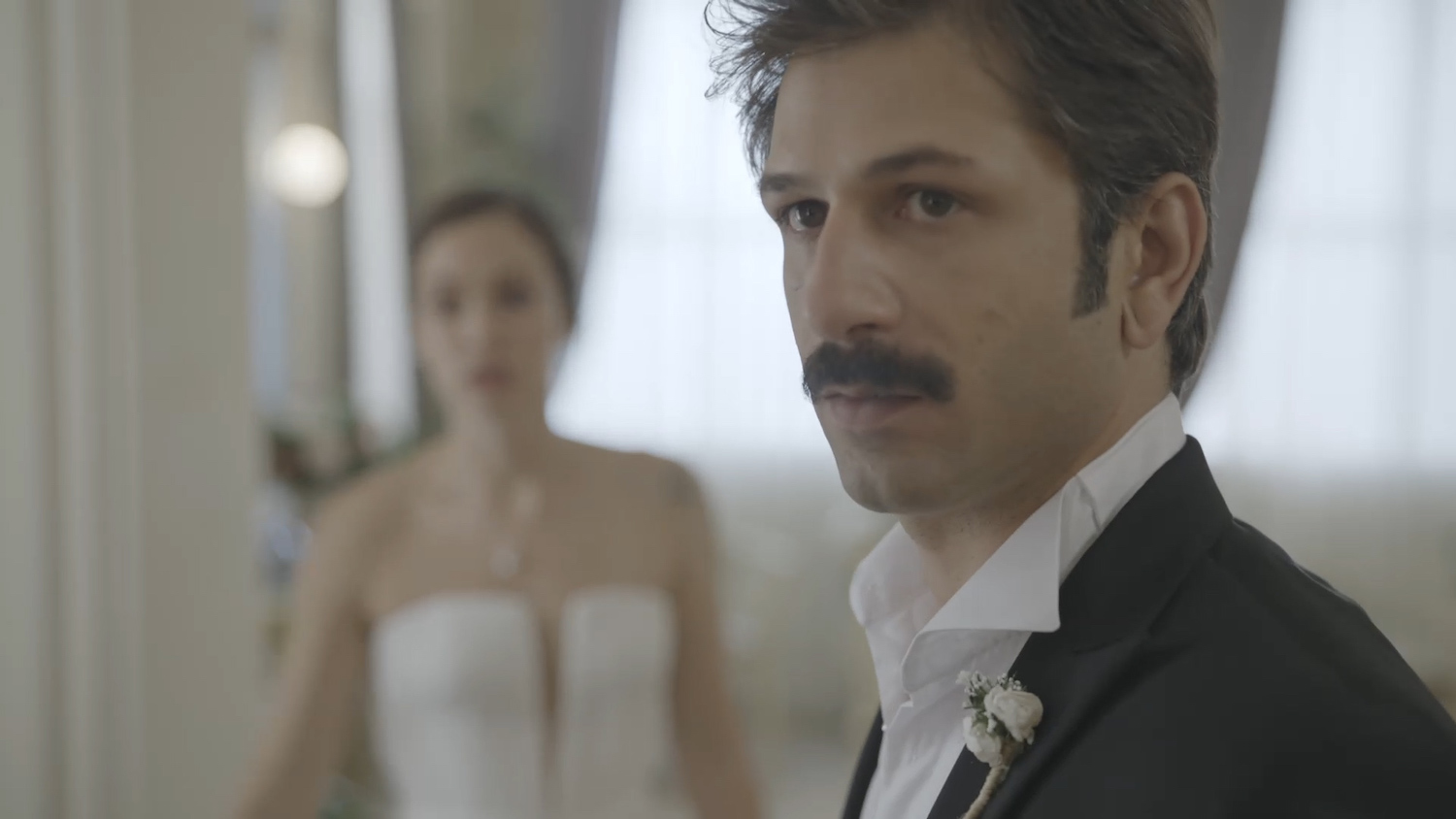 Love and/or Marriage 
Alongside the stereotypical moody Anatolian dramas, there has been a whole series of probing and exciting programming choices — whether it's the weirdness of Iguana Tokyo (Kaan Müjdeci) or the arthouse affections of A Woman Escapes (Burak Çevik, Sofia Bohdanowicz, Blake Williams). Today's standout is the short and sharp 70-minute comedy-drama RSVP (Please Respond) (İsmet Kurtuluş, Kaan Arıcı, feature and above). A real-time chamber play with razor-sharp performances, it all takes place within that short, nervous space before the wedding actually begins: the best man and the groom sitting in their dressing room; stirring drinks, calming nerves, making sure that their suits fit.
Best man Mert isn't just drinking for fun though. He's drinking to loosen himself up in order to get long-held secrets off his chest. At first, his needling, needy questions seem designed to make sure groom Semih is absolutely sure about his decision. But played with a pitch-perfect mixture of vulnerability and menace by Cem Yiğit Üzümoğlu, he's really trying to provoke chaos in the messiest way possible. Then when the bride walks in, asking her man for comfort, the movie quickly accelerates to 100 as deep secret after deep secret is revealed in endlessly humorous ways. 
With an obvious theatrical influence — using its confined space as a kind of No Exit-style purgatory — this is a complete actor's showcase, all three of them raging against the dying of their naivety in a fantastically authentic fashion. The dialogue is wonderfully repetitive, certain phrases and words bandied about by the three of them with real venom and wit. I particularly liked Mert referring to an affair as a "research and development" project. 
The audience particularly loved it, and were fully on board with the film's queer elements — apart from one guy who started taking pictures and then muttering something derogatory in Turkish. I assume being a homophobe was his problem as there was certainly nothing wrong with the mise-en-scène, the film knowing well when to cut for comic effect, when to hold the take and when to shoot a medium or close-up shot. There's nothing particularly flashy here, but the dual-directorial team certainly get the most out of their minimalist set-up. 
It's all very, very funny — and definitely feels like something that would come out of England or France — but it's not just funny for the sake of it. There's real conversations to be had about homophobia in Turkish society, double-standards when it comes to the ethics of sleeping with the same or other sex, fragile masculinity, female egos, and being pressured to live a certain way by the world around you. A proper crowd-pleaser, it's perhaps the smartest programming choice in the entire festival, especially as it exposes the nastier elements of societal expectation while never falling into didacticism.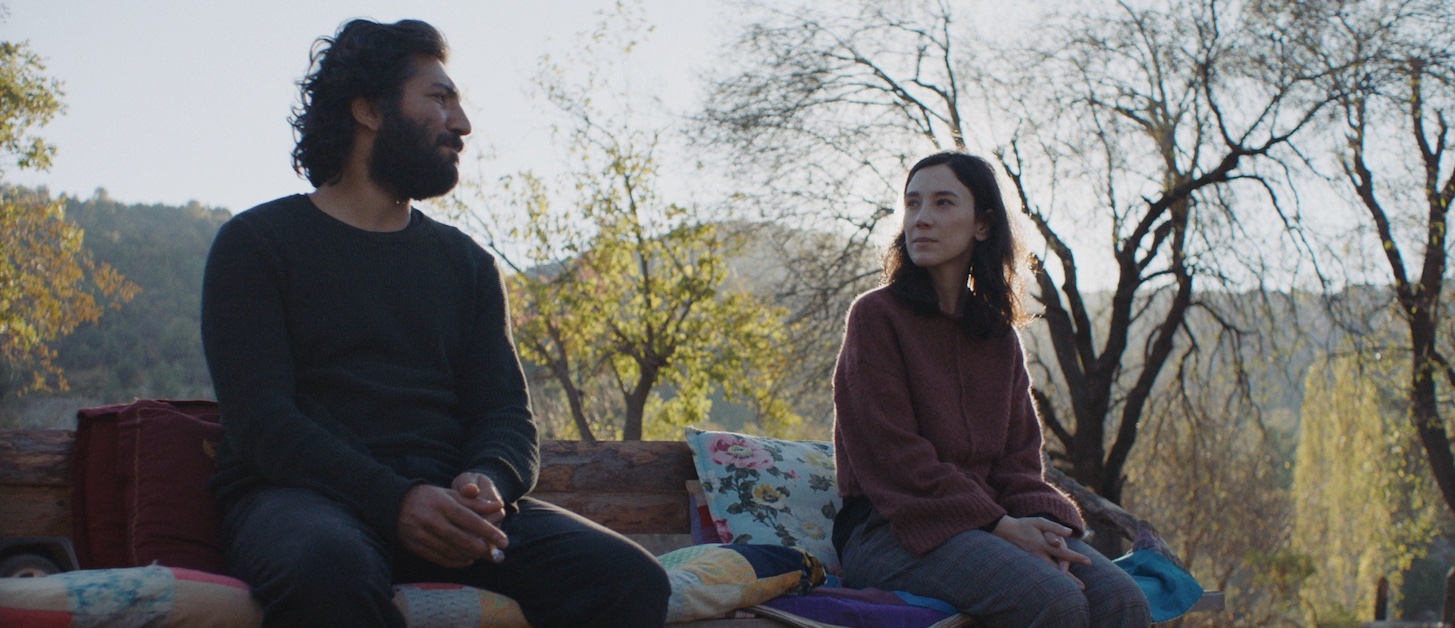 It's About Everyone 
If RSVP (Please Respond) criticises heteronormativity in a playful and spirited way, Black Night (Özcan Alper, above) shows its violent and fascist endpoint as the conventions of rule and order are superseded by the supposed "rule of nature." Certainly a theme of the festival, especially when it comes to remote villages that refuse to play by the law, it comes to a brilliant head here in this sensitive, dark and rather bleak exploration of one man finally coming to terms with his dark past. 
Our hero is Ishak, first seen playing the guitar in a smoky bar. He's going through the motions, moving from town to town to forget his sense of self. Nonetheless, the places we grow up are not just physical, but mental as well, and their scars cannot be easily erased. After seven long years, he is forced to return to the village due to the failing health of his mother. Once there, he comes to terms with a brutal killing that prompted his departure, the exact details of which aren't revealed until right near the end.  
Usually, I get tired of slow reveals, flashbacks peeling one more frame of detail each and every time, but Black Night is extremely effective in its switches between past and present, and in its changes in perspective. The film actually shares an actor with RSVP in the form of Üzümoğlu, who plays a young forestry worker here. He wants to make a good impression with the locals, but something as innocuous as African music as his phone ringtone immediately paints a target on his back. Blonde-haired, creative, sensitive, his friendship with Ishak forms the emotional backbone  of the film. But we are slowly shown how societal pressure can bend these types of sensitive friendships to a breaking point, making for an intense, emotional affair. 
While the film is filled with the kind of drone shots, moody bike ride tracking shots, foggy landscapes and hardened locals that characterise so much of Turkish festival entries, Alper's approach to narrative storytelling and his off-hand way of creating conflict make for a genuinely devastating film, brutally showing just what evils man is capable of.  
The cruelty in this film is shocking not in its intensity, but in its casualness. These men are not just mean because they want to uphold the proper way of doing things. They are mean because they can, because to them, the fragility and vulnerability of other men is something they love to destroy. Even if the sexual orientation of the characters is never truly defined, that's not the point of the film, boldly showing how every man suffers under a homophobic society.  Perhaps my favourite film of the festival. 
The Mayor of Antalya, Muhittin Böcek — whose face adorns posters across the city — is part of the opposition party to Erdoğan. I don't know much about him, but it appears that he has helped to insulate the festival as a hub of liberalism and tolerance despite the hardening of anti-LGBT ideals by the long-standing Turkish President. The enthusiastic response audiences had to these two films show there is a strong willingness to experience home-grown queer stories that push back against the regime. It's been heartwarming to see in person.